1. Introduction
You can start BiQui either with a username and password of your choice [Register] or as a guest [Guest Access]. Please note that, as a guest, you can only play single player games. You can change your guest account to a registered personal account at any time by setting up a username and password. If you register with your email address (optional), you will be able to reset your password if you forget it.
BiQui can currently be played in German and English only. BiQui has two different play modes. You can switch between the play modes at any time by clicking Menu > Account at the top left of the home screen:

Kids Mode: Questions for children and newly baptized
Standard Mode: Questions for adults and advanced users
2. Starting a new game
Click on New Game to start a game alone [Singleplayer Game] or with someone else:
You can add a friend to your friends list and then start a game with them.
You can start a game with a random player. The computer tries to match a player who is at a similar difficulty level to you. You will be notified as soon as a player is found (this might take some time).
To add someone to your friends list you need to know their username. Ask your friend for their username and play with friends from your congregation or from other congregations. If BiQui was installed via a recommendation link you received from a friend, you will be added to their friends list automatically and vice versa.
3. Gameplay
Each game has 3 rounds. In each round you see 9 question cards from different categories and with varying level of difficulty. In the beginning, you may play only 4 cards. Later you may play more cards.
If you answer 3 questions in a row correctly (horizontally or vertically), you will receive double points.
Click on a question card to open it. The app gives you 30-40 seconds to answer the question.
Hint:
In the single gaming mode you can activate the "Study mode". This will remove the timeframe for answering a question. You can adjust this setting by clicking on the
Settings symbol on the top right
of the home screen
After answering the question, you can look at the source. You can do this by clicking on the light bulb symbol.
A round will end after you have answered all questions available to you. You can start another round afterwards. After 3 rounds the game will end and your points from each round will be added to give your score.
BiQui has 10 categories (topics). Initially, you can play cards from 5 of them. As you progress, you unlock more categories.
The color of the question card indicates the level of difficulty. The more difficult the card is, the more points you will earn for a correct answer.
Kids mode:
easy kid's question [10 points]
difficult kid's question [15 points]
Standard mode:
easy question [10 points]
normal question [15 points]
hard question [20 points]
very hard question [25 points]
The blue question cards (very hard questions) are only shown after reaching a certain score (see point 5) and will not be seen from the beginning.

If you want to know more about the categories and levels of difficulty available to you, please click on Menu > My Statistics at the top left of the home screen.
4. Special game features in multiplayer mode
In multiplayer mode, each player has 72 hours to end a round. The score for each player will only be shown after both of you have finished the round. Since both players are not playing at the same time, this feature allows each player to play at a time convenient for them. It may therefore take some time until the other player has finished the round. Please be patient. You will be notified as soon as the other player has started playing again.
If one of the players did not resume/finish the game within the allotted timeframe, the game is assumed to be lost by the player who did not finish the round.
You can also send a message from a list of pre-defined messages to the other player. We do not use an open chat on the app. Reasons for this are stated in the FAQs.
How many categories and cards can be played is also based on the other player. If you already play 9 categories and 5 cards per round but you are playing with a player who only plays 7 categories and 4 cards per round, the game automatically uses the lowest amount of categories and cards in a round. The same is true for the Kids mode. If one of the players has activated the Kids mode, the game will start with kids questions.
5. Levels
You start as "Beginner". After your score reaches 3,000 points, you will be upgraded to the next level, "Amateur". The category "The Way" will be unlocked and you will receive a lifeline. We will not detail more about the next levels here. Let yourself be surprised!
With each level reached you will receive one or more of the following things:
A new category will be unlocked.
You are allowed to play one more card each round.
For some categories, the very hard questions (blue) will be unlocked.
You will receive one or more lifeline(s).
By clicking on the yellow area on the home screen you will see how many points you require to reach the next level and what new features that level will unlock.
6. Lifelines
50:50 Lifeline: Two wrong answers disappear, leaving you two answers to choose from.
100% Lifeline: This guarantees you get the answer right, but can only be used after you have used another lifeline.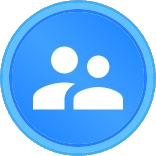 Ask the Audience Lifeline: The answers of the last 10 players will be displayed, but were they right?
Stop the Clock Lifeline: The timer for your question will be stopped so that you have time to search for the correct answer.
Attention: Each lifeline can only be used once.
There are different ways to receive lifelines:
When adding your profile picture, you receive a lifeline.
When you reach a new level, you receive one or more lifeline(s).
For every 5 games completed with a random player, you receive a lifeline.
If a new player installs BiQui as a result of you sending them a BiQui recommendation link [go to New Game > Recommend BiQui], you receive some lifelines.
For each question sent to us and used, you receive a lifeline.
Working as a translator: For each translated question, you receive a lifeline.
7. Gaming strategy
When gaming with a friend or random player, you both see the same 9 question cards no matter which language you play in
Choosing your question cards wisely is part of the strategy. Sometimes you can receive more points by answering a row of easier questions correctly and seeing your points doubled. You can also choose the categories which you find easier. Nevertheless, you should always try to answer a row of questions (horizontally or vertically).
If your score is similar to the other player's score after two rounds, use of a lifeline may help you find the correct answer and win the game.
8. Write questions
BiQui becomes alive with up-to-date questions. Weekly, new questions are added. But before these questions are added, they are reviewed.
Who writes all these questions? You, the players of BiQui! Thank you so much!
Would you like to send a question? This is possible after reaching a score of 15,000 points. In the meantime, you can learn which questions are already included in BiQui and get an idea as to what a suitable question for BiQui could look like. Should your question be added, you will receive a lifeline.
Only well-researched, correctly-spelled questions with a definite and up-to-date source can be added to the game. To mention a Bible verse as the only source is not sufficient in most cases.
9. Errors in questions
If you find any spelling or content errors in a question, please notify us by clicking on Report Error on the question card.

Before reporting a content error, please study the topic again and open up the mentioned sources, if available. You will need to provide additional sources that explain the reason you think the question is not correct.
Any questions that are queried will be taken out of the game immediately. After the facts are reviewed by one of the editors, the question will either be corrected, deleted or reinstated to the game without changes.
10. Your attitude while playing
Please be balanced when playing. BiQui is a game – it is not a competition. This game should not replace your personal study.
Do not be discouraged if you cannot answer many questions now. Look at it as an opportunity to discover new things and to learn.
In the multiplayer mode, you may note that the other player has chosen different question cards to you. This is a strategic element in BiQui to help avoid misplaced competition.
11. Support BiQui
Thank you very much for any support you wish to give to support the development of BiQui. Different options are available here.
12. Questions?
Please visit the FAQs page.